---
---
Steve Dunham's Trains of Thought
Transportation Security Topics
---
Passenger Trains: Not a Good Place for TSA
By Steve Dunham
Published in the Fredericksburg, Va., Free Lance–Star, September 26, 2013, under the title "Will VRE Riders Be the Next TSA Victims?"
If someone is making you uncomfortable, report it. That's what Virginia Railway Express tells its passengers. If having Transportation Security Administration agents in the station makes you uncomfortable, VRE prefers that you keep your mouth shut. The TSA is there by the invitation of VRE.
What's wrong with that?
To detect terrorist operations, anyone entering an "impacted area has to be screened," according to the TSA. That was its explanation in 2011 after its officers in Savannah, Ga., searched everyone who entered the Amtrak station. A group of police officers and firefighters who had just gotten off a train were told they would be searched, and when the TSA started patting down children, a firefighter started filming the incident.
After I saw eight TSA officers standing around the Alexandria station one morning, I told VRE I had no confidence that the TSA would not repeat what it had done in Savannah. My attitude, said Greg Deibler, VRE's Manager of System Safety and Security, displayed astonishing hostility. He said that what happened in Savannah was an "isolated incident."
VRE wants TSA present because of "increases in terror threats" and "to help deter any potential issues"—"a goal shared by most public transit systems." The TSA officers Deibler works with show "professionalism and restraint," he said.
I asked whether VRE is going to tell its passengers about these "increases in terror threats" and, if "most" public transit systems share VRE's goal, which ones don't? Deibler didn't respond except to dismiss my questions as snarky, sarcastic, and incoherent.
Maybe it's just as well that VRE isn't warning its passengers about "increases in terror threats." Some warnings that passengers already get from VRE lack credibility. Twice a day we are warned to watch out for "high speed" trains at Quantico. Not ordinary freight and passenger trains, of which there are plenty. No, "high speed" trains (which, according to the Federal Railroad Administration's definition, go at least 110 mph). Exaggerating the danger robs the warning of credibility. There are no high-speed trains at Quantico, and maybe the same number of increased terror threats at VRE stations.
But we do have TSA VIPRs ("Visible Intermodal Prevention and Response" officers) to deter potential issues. Can we count on professionalism and restraint? Or should we be wary of irresponsible behavior?
This summer the Government Accountability Office reported on 9,600 cases of TSA "employee misconduct" in fiscal years 2010, 2011, and 2012. Almost a third of the cases involved "attendance and leave," but over 6,500 cases were more serious, at least from passengers' point of view. Misconduct involving "screening and security"—"failure to follow standard operating procedures, bypassing screening, sleeping on duty"—accounted for almost 2,000 cases. "Failure to follow instructions"—"insubordination, ignoring policies, disrespectful conduct"—was involved in more than 1,500 cases. Cases of "inappropriate comments or conduct" (including "sexual misconduct") totaled almost a thousand. "Drugs and alcohol," "neglect of duty," "integrity and ethics," "falsification" and "other categories of misconduct" totaled thousands more.
One firefighter who arrived by train at Savannah said that his wife "and a female friend were also searched and … female TSA officers made them lift their shirts up to their midriffs and patted their bras," according to Fran Golden of AOL Travel. I don't know whether this is sexual misconduct or just TSA standard operating procedure, but doing this to passengers getting off a train is not going to make rail travel more secure.
Robert Thompson, the Washington Post's "Dr. Gridlock," commented Sept. 9 about random inspections by District of Columbia police at Metro station entrances: "This is the Metro program that treats transit riders as terror suspects. Metro launched it several years ago because everyone else was doing it and because it got federal money for it.
"I've never heard a case made that this is an effective way of deterring actual terrorists. I think you can make a better case that it intimidates riders.
"This is not a reasonable search."
Passenger trains are not like airliners, which board passengers at a terminal and travel nonstop to the next airport. Rather, passenger trains normally board passengers at numerous stations, often through many doors, and many times at stations that are completely open. It is not practical to screen every passenger boarding a train any more than it is practical to screen every motor vehicle entering a highway.
Bringing TSA officers randomly into this environment without a specific threat to address might deter terrorists, or it might just shift any terrorists to a different station or prompt them to come back another day. It also might put pressure on TSA officers to justify their own presence.
If the TSA behavior at Savannah was an isolated incident (the GAO report suggests otherwise), then Fredericksburg might be next.
---
Hazmats Ride the Rails Alongside Commuters
By Steve Dunham
This column appeared in the Fredericksburg, VA, Free Lance–Star on May 15, 2005, and is reproduced with permission.
Every weekday, commuters on Virginia Railway Express and on Metro are close to hazardous materials being hauled on CSX freight trains, which, like VRE and Metro, run through Washington, D.C. Just how hazardous are these materials, and are they a likely target for terrorists?
In February, the District of Columbia enacted a law forbidding rail shipments of hazardous materials. The law was prompted by a July 18, 2001, fire in a CSX rail tunnel under Howard Street in Baltimore and by the terrorist attacks two months later. The Baltimore fire involved a derailed CSX freight train that included nine cars of toxic chemicals. Two of those nine ruptured. One was carrying hydrochloric acid; the other, carrying tripropylene, was the cause of the fire, according to the National Transportation Safety Board report.
Washington is concerned that hazmat shipments by rail could be a target for terrorists; the CSX line passes a few blocks from the Capitol. Certainly an accident or sabotage involving a hazmat shipment could cause major trouble in downtown D.C. The wreck in the Howard Street tunnel under the heart of Baltimore disrupted commerce and transportation for months: Orioles baseball games were canceled, streets were closed, and the light rail line on Howard Street was shut down.
If the wreck had been intentional, it might have been a satisfying piece of vandalism for a criminal. But the wreck did not inspire terror. No one was killed, although people easily could have been.
With human casualties far from certain, hazmat shipments may not be so tempting a target for terrorists, even if they could be sure of wrecking a train near Capitol Hill. Although CSX carries a lot of chemicals, toxic inhalation hazards—poisons such as chlorine that could be carried on the wind and not just spill onto a restricted area—are a very small percentage of shipments, said Skip Elliott, the railroad's assistant vice president for public safety and the environment, speaking at the Railway Age Security Forum and Expo this past winter in Washington, D.C.
CSX is not against looking at the routing of chemical shipments, Elliott said, but he pointed out that rerouting cargoes away from Washington would just transfer the risk somewhere else. Hazmat routing, he said, has to be national. He added that CSX has been inundated by government advice, "all of it valid, most of it good," but uncoordinated. The Transportation Security Administration did a fact-based vulnerability assessment of Washington, D.C., he said. Increased security on a freight rail corridor for the area would involved "hardening" of 10 to 12 miles of line. Now the Transportation Security Administration "is implementing a $7 million plan to add fencing, patrols and other safeguards," according to an April 22 story in the Washington Post.
What would be a bad idea is to shift hazmat shipments to trucks. Two days after the Howard Street tunnel accident, the Baltimore Sun noted that Maryland had "experienced nearly 5,000 hazardous spills during transit over the last 30 years … About 3,500 occurred on highways; only 217 on railways." New York City has a ban on trucks carrying hazardous materials, and Washington should consider something similar.
The courts have upheld New York's truck hazmat law but, so far, not Washington's rail shipment law. With Baltimore and Philadelphia considering their own bans on rail shipments of hazardous materials, a patchwork of regulations could force shipments into other cities and onto other rail lines—perhaps secondary lines with inferior track.
So far the bulk of rail freight security has been implemented by the industry, led by the Association of American Railroads. The Transportation Security Administration, with its congressionally mandated fixation on air travel, has provided little help. A nationally coordinated (not necessarily federally directed) plan could route the movement of hazardous materials in a way that creates the least hazard.
---
Security Practice Could Keep VRE Riders Interested
By Steve Dunham
This column appeared in the Fredericksburg, VA, Free Lance–Star on April 17, 2005, and is reproduced with permission.
If terrorists carried a bomb on board a Virginia Railway Express train, would we passengers notice? Last year, VRE began a program called CAST (Commuter Awareness for Safe Travel), encouraging passengers to be safe, smart, informed, aware, and prepared.
Some of the program is merely common sense: Learn the location of emergency exits on the train and how to use them. Stay calm in an emergency and listen for instructions.
Other portions are not as credible: Pay attention to the Homeland Security Department's terrorism alerts. What should we do differently when the alert level goes from yellow to orange?
Yet other suggestions are too glib: Have an alternate plan for getting home and for communicating with family members. I would really like to see these alternative ways home posted on the VRE website. If you live in Quantico or farther north, you might get on board a bus. I guess that riders from Stafford and farther south are supposed to call home and ask for a ride if anyone is available to come get us. But as the Washington Metro warnings point out, in an emergency, phone service may not be available. I could try to catch a bus to Quantico and then start walking, but if Washington isn't being nuked, maybe I will just stay put.
I would reword the "be prepared" part of the CAST brochure and address it to VRE: Develop an alternative plan for getting your passengers home.
VRE also asked us to label our bags with CAST tags bearing our name and address so that if we leave a bag behind it will be identified. I acquired enough tags to identify all my bags, figuring I will need luggage tags when I travel afield on Amtrak, and I can't obtain them at the Fredericksburg station. It also crossed my mind that if I were a terrorist with a bomb, I would put a CAST tag on it to identify it as legitimate luggage.
Once I did see someone getting off the train and leave something behind. I quickly pointed it out, and the man thanked me. I was merely concerned that the guy had forgotten his things. Only later did it occur to me that I was following security instructions.
VRE wants us to be on the lookout for suspicious packages and activity. This is surely worthwhile, but extended watchfulness is difficult without something to maintain passengers' interest. The warning signs were there for the train bombings in Madrid, Spain, on March 11, 2004, according to Harry Saporta, a safety and security engineering specialist with Parsons Brinckerhoff. Speaking at the 2005 Railway Age Security Forum and Expo in Washington this past winter, he pointed out that the Madrid bombers were wearing ski masks. I hope that our complacency would be shattered if someone boarded a VRE train wearing a ski mask.
But maybe we are so oblivious that we will ignore obvious signs of danger. John Clark, Assistant Vice President and Chief of Police for Burlington Northern Santa Fe, speaking at the same forum, described how suspicious packages were intentionally planted on commuter trains to test crew and passenger response. In the first test, the package stayed on the luggage rack all day, he said, and then the coach cleaners took it into the depot which "was the worst thing they could have done," said Clark. That first test "took place quite some time ago. Since then, with additional awareness training, signage on the property, etc., subsequent tests have been much more successful."
Would VRE passengers be alert enough to react properly to a suspicious package? Maybe not. But a little practice might help. VRE could occasionally plant a suspicious package on board a train and offer a reward to the passenger who spots it and tells the crew. If the reward were substantial—say, a monthly ticket—and the drills unannounced, I think there would be plenty of passengers on the lookout for suspicious packages. Exercises like this could keep passengers interested.
It will take more than pamphlets or yellow and orange alerts to get passengers to be watchful year after year. Riding trains that go to and from Washington five times a week, we may one day face a real emergency. If it comes, it will help to be in practice.
---
Watchful Rail Riders Add to Security
By Steve Dunham
This column appeared in the Fredericksburg, VA, Free Lance–Star on May 30, 2004, and is reproduced with permission.
What's to stop terrorists from bombing commuter trains in Washington, DC, as they did in Madrid, Spain, on March 11? Tighter security plus watchful employees, passengers, and railfans. On May 23, the Department of Homeland Security directed U.S. passenger railroads to use dogs to detect bombs in baggage, in terminals, and on trains and to enlist the help of passengers and employees in spotting suspicious behavior or unattended property. But this helpful advice from the federal government ignores the fact that passenger-carrying lines have been doing just that for a long time.
Since Sept. 11, 2001, rail passenger systems across America have been encouraging passengers to keep their eyes open for anything suspicious, and most passenger railroads started boosting security as long ago as 1995, when terrorists used sarin gas on the Tokyo subway. New York City has been stepping up transit security since the 1993 World Trade Center bombing.
Virginia Railway Express has been an industry leader in implementing security measures such as guards, disaster drills and evacuation plans. Dave Snyder, VRE's superintendent of railroad operations, safety and security, has encouraged passengers to be on the lookout for anything suspicious.
The thousands of eyes and ears provided by passengers are going to be crucial to preventing a Madrid-style attack in the United States. A rail system, unlike an airline, has so many points of access that security measures in themselves are nowhere near enough. For proof, look at the Transportation Security Administration's new pilot program to screen rail passengers. Beginning May 4, Amtrak and Maryland Rail Commuter passengers have been passing an explosives detector before boarding trains—at one station (New Carrollton, Md.) and during rush hours only, and passengers on the Washington Metro, which shares the station, aren't being screened at all. You don't need a criminal mind to spot a few holes in that security measure.
However, just as Americans on an airplane will never again sit quietly through a hijacking, anyone leaving a suitcase or backpack behind on a train is going to get instant attention, and that's where alert passengers may be able to thwart an attack.
However, two rail systems have hit the headlines in the past two weeks over misguided efforts to prevent photography. New Jersey Transit, which was building canine bomb-detection teams before the Department of Homeland Security started issuing directives in that regard, now wants to forbid anyone from taking pictures of its property without a permit, and the New York City Transit Authority has decided to require permits for photography on the subways.
Civil liberties advocates were quick to pounce on the restrictions, and I agree. I've taken plenty of train pictures for columns and articles and just for fun, and if I'm on public property, I see no legal basis for banning photography. On transit authority property, I can see the rationale for issuing permits, and when I lived in Boston I had a photographer's permit for the transit system.
But there's another side to this: discouraging photography is counterproductive to security. Common sense says that cameras will discourage crime, including terrorism. But in general, some railroads and even local police, particularly in the Northeast, have been discouraging train buffs from watching trains or taking pictures. I'm a casual, now-and-then train watcher, but there are people who spend hours every weekend watching trains, often carrying cameras, notebooks, maybe binoculars, and they notice the slightest thing out of the ordinary. If I were responsible for security on a railroad, which has such extensive property and so many vulnerable points that it is impossible to patrol, I wouldn't be discouraging these people.
To its credit, I have never heard of VRE discouraging railfans who practice safety, who stay clear of tracks and trains and private property. I often see train watchers at the Alexandria station in the evening, and a local rail history group sometimes holds meetings right on the platform.
If someone places a suitcase on the platform and leaves the station, or parks a bomb-laden vehicle under a bridge, or attempts some kind of sabotage, chances are these people will be the first to notice, and I hope they are carrying cameras.
If Washington Is Evacuated, How Will We Get Home?
By Steve Dunham
This column appeared in the Fredericksburg, VA, Free Lance–Star on June 1, 2003, and is reproduced with permission.
How would we evacuate Washington, D.C.? That question is on the minds of government and transportation officials as the nation fluctuates between yellow and orange terror alerts.
Richard White, general manager of the Washington Metropolitan Area Transit Authority, who commands the greatest people-moving capacity in the region, maintains that in an emergency evacuation of the city, many people will have to walk. On the roads, he said, emergency vehicles will have to get priority, and that means reduced highway capacity for the rest of the traffic. The Metro, which is already packed during rush hours, wouldn't be able to absorb the additional passengers trying to get out of the city.
White also would like people to stay put if they are not in danger, freeing transportation capacity for people who must leave a danger zone.
White's ideas are reasonable and depend on people to exercise restraint and courtesy. This is an iffy proposition on ordinary days. A terrorist attack will bring out the best in some people and the worst in others. Many times on ordinary days I have seen drivers refusing to yield to emergency vehicles. How will these people behave if a dirty bomb has gone off in Washington, dispersing invisible radiation?
The problem of invisible weaponry—radiation, chemicals, or germs—may also put an end to the reasonableness of staying put. How can you be certain that you are not in a danger zone? Even if you are clearly upwind of such an attack, how do you know that the wind won't shift? And if you live in the suburbs, can you really assure your family that you are safest right where you are?
In fact, unless the neighborhood you work in is under attack, you may well be safest staying put. Radiation, chemicals, and germs will spread out and become less dangerous the farther they disperse from the center of an attack, and the air inside may be safer than the air outside. Nevertheless, with invisible weapons, there will be little assurance that the air inside or outside is not contaminated. Many people will leave the area any way they can.
Dave Snyder, the superintendent of operations, safety, and security for Virginia Railway Express, has said that in an emergency, people will walk out of the city if they can't ride, and many did just that on Sept. 11, 2001. Yet Metro and VRE are not sure that people will be able to ride. VRE is urging its passengers "to develop at least two alternate plans to get home: One that involves public transportation and one that does not."
For riders in northern Virginia, there are alternative means of public transportation, though getting on board in an emergency may be problematic. For those of us in Fredericksburg and its surrounding counties, on the fringes of the Washington metropolitan area, there is very little in the way of alternative public transportation: a few buses a day, and these have little if any surplus capacity. If VRE cannot get its trains out of Washington in an emergency, we will have no other way home.
Metro's Richard White says that the transportation agencies in the Washington area need a coordinated evacuation plan, and he is right.
Furthermore, the plan must be different from the way the rail systems ran on Sept. 11, 2001: It must accept risks. On Sept. 11, Metro temporarily suspended train service on its bridge across the Potomac River. VRE and Amtrak were prevented from operating through the tunnel under Capitol Hill.
If another attack comes, then removing people from an area of clear and present danger must take precedence over caution where no confirmed danger exists. If the highways are clogged and VRE has to suspend service, people will start walking.
From Washington to Fredericksburg, it's a long walk.
Washington Workshop Examines Transportation Security
By Steve Dunham
This column appeared in the Fredericksburg, VA, Free Lance–Star on Feb. 9, 2003, and is reprinted with permission.
A lot of people are working hard at transportation security, and they hope they are doing the right things. They are defending against unknown threats. They can work to close the security gaps that exist, but finding the unknown vulnerabilities that terrorists might exploit will be harder.
A lot of these people came together at the Transportation Safety and Security Workshop at George Washington University on Jan. 28. Produced by the university in conjunction with the International Emergency Management Society, the workshop featured speakers from Europe and Australia as well as the United States, and the proceedings comprised 15 papers by speakers and attendees.
The day's presentations culminated in a talk by Admiral James Loy, head of the Transportation Security Administration. He is the second head of this agency, created by Congress in October 2001. Loy retired as Coast Guard Commandant last spring and was promptly tapped by the White House to replace John Magaw, who had headed the TSA for only a few months. Loy acknowledged that, although his agency has responsibility for securing all modes of transportation, he has devoted most of his energy to aviation because of two congressional mandates: to equip the nation's 429 commercial airports with a workforce of federal inspectors by Nov. 18, 2002, and with explosives-detecting devices by Dec. 31, 2002.
He met both deadlines, and Loy said he had predicted that his agency would have one day of basking in public admiration before people started asking what he would do for the other modes of transportation. Although the Transportation Security Administration has indeed started expanding its attention to take in maritime, highway, and rail security, the rest of the government and the transportation industry has not been waiting for the TSA before getting started.
Rear Admiral Larry Heath had begun the day by describing the Coast Guard's port security efforts and its plans for a "layered defense" against seaborne terrorism: measures to detect and stop threats overseas, en route, or in our home waters.
Two people addressed security for mass transit and, in my opinion, missed the mark. Anngiennetta Johnson, a transportation consultant, in her paper "Washington Mass Transportation: The Readiness Myth," asked whether the Washington Metropolitan Area Transit Authority, after the Sept. 11, 2001, terrorist attacks, is "now capable of functioning effectively in an environment of bombs," anthrax, sarin gas, hoaxes, and more.
A speaker from Science Applications International Corporation, which, under contract to the Federal Transit Administration, is conducting security assessments of America's largest transit systems, gave the impression that mass transit operators generally needed to be convinced to implement security measures.
It's true that the terrorist attacks prompted increased attention on security among America's transit system operators and that some systems do not believe they face much of a terrorist threat. However, most of the nation's larger systems had major counterterrorism programs in place long before 2001. The Washington Metro system, as just one part of its security program, was working well before 2001 to install chemical detectors in its stations—in fact, the effort dated to 1995, when the Aum Shinrikyo cult carried out a sarin gas attack on the Tokyo subway system. That event, along with the hundreds of terrorist attacks against buses and trains overseas, particularly in Britain and Israel, had alerted American transit systems to the danger and the need to protect their own passengers.
Although terrorist attacks are difficult to predict or prevent, rail commuters in the Washington area ride two systems that are industry leaders in security: Virginia Railway Express and Metro. If another terrorist attack strikes the Washington area, VRE and Metro will probably be as ready as any rail system can be.
One point raised at the workshop was that highways are probably the most difficult mode to secure, because a private vehicle is usually the ideal means of transportation for terrorists—for example, parking an explosives-laden rental truck outside a federal building.
Also, some speakers, such as Robert Francis, former vice chairman of the National Transportation Safety Board, urged greater investment in aviation safety measures rather than defending against a type of terrorist attacks that may not be repeated.
Furthermore, despite massive government investment in bolstering transportation security, Loy warned against thinking that we can protect ourselves against every attack. "Transportation security," he said, is "a journey, not a destination; a filter, not a guarantee." Nevertheless, he pointed out, we can do "a quantum job better than what was done before."
VRE Is an Industry Leader in Security
By Steve Dunham

This article appeared in the Fredericksburg, Va., Free Lance–Star on April 28, 2002, and is reprinted with permission.

On Sept. 11, Virginia Railway Express had an emergency plan already in place for getting people out of the Washington, D.C., area. "We did our job and it worked," said Pete Sklannik, Jr., VRE's chief operating officer. While waiting for permission to move its trains through the tunnel under Capitol Hill, VRE used one train that wasn't in Washington during the attack to take passengers home on the Manassas line and called on Alexandria Transit buses to carry passengers to stations on the Fredericksburg line.

VRE's security measures benefit from the railroad's excellent relationship with law-enforcement agencies in the area, which Sklannik credits to Dave Snyder, VRE's superintendent of railroad operations, safety and security.

VRE also has had a stronger focus on security ever since Sklannik arrived in the summer of 2000. When he was with the Long Island Rail Road, Sklannik served on a committee of Metropolitan (New York) Transportation Authority managers in response to the 1993 bombing of the World Trade Center. When he came to VRE, Sklannik asked about the railroad's crisis response plan. VRE did have plans for dealing with derailments and bad weather, but Sklannik told the staff, "Think of something heinous."

A few months later, in the spring of 2001, VRE started working with consultants to look at threats to the system. They examined everything from security of railroad equipment to computer network integrity. "We did really well," commented Sklannik, who said that the facilities and infrastructure are as secure as they reasonably can be, which is "pretty amazing" because VRE doesn't "own much of the railroad."

When they had finished the "readiness assessment," the consultants told VRE, "You guys are doing things that other people should be doing." That includes plainclothes undercover officers on trains, frequent exercises with law-enforcement and emergency personnel, and constant training."

"Let's try all the scenarios we can," Sklannik has told his staff. "Let's start thinking like a terrorist." Some results are a recent exercise in which law-enforcement people staged a simulated assault on a VRE train and drills involving suspicious packages. "We serve the nation's capital, so we're a perfect lab," he said.

However, Skannik says that VRE can do better and is really "just getting started." He would like to have more security cameras, and what he calls "preventive and deterring technology." VRE also will notch up first aid training for the crews."

In fact, VRE, has a "shopping list," said Snyder. He mentioned more protection for bridges, tunnels, and culverts. Also on the list are a remote operations center for emergency control of train operations and, in the near future, a mobile emergency operations center in a converted bus. This summer, VRE will be testing passenger information disseminated via personal digital assistants. VRE already provides service disruption information via e-mail, an 800 phone line, and a website. Further down the line, specifications for new railcars will reflect the new security environment, even though the existing cars are rugged."

If VRE ever again needs to get people out of Washington in a hurry, it can rely on cooperation from the host freight railroads: CSX, which owns the Fredericksburg line, and Norfolk Southern, which owns the Manassas line. The railroads have promised track capacity for evacuation, said Snyder; they will put their freight trains aside. VRE is also keeping human nature in mind while planning—for example, people will start walking out of Washington in an emergency if transportation is not available, noted Snyder. On Sept. 11, before Amtrak, Metro and VRE started running across the Potomac again, some people walked from Washington to King Street in Alexandria—about 8 miles—to board VRE. Although the first phase of the vulnerability assessment indicated that VRE is in good shape, VRE is proceeding with a second phase: in-depth study of areas that could be better."

"We're going to prepare and be ready," said Sklannik. "We won't let our guard down."
---
Disaster Drill Inspires Confidence in Rail Safety
By Steve Dunham

This article appeared in the Fredericksburg, Va., Free Lance–Star on March 3, 2002, and is reprinted with permission.

Looking out the train window, I could see Marines writhing on the ground, apparently suffering from inhaling the fumes of a toxic chemical. Ahead of the engine I could see a tank truck across the track. The train was stopped on the Marine Corps base at Quantico, and I and the other passengers waited for someone to tell us what to do next.

We were part of an exercise called "Cold Dawn" held on the Quantico base Feb. 21. The hypothetical disaster was caused by a terrorist who parked the tank truck on the track as a train approached, then abandoned the truck. Nearby, we heard later, was a car with a briefcase bomb intended to disable rescue workers.

Shortly before we boarded the train for the drill, one of the controllers had told the volunteer VRE passenger victims that our role was to remain on the train. Certain areas, such as the other side of the tracks, were "out of play," and in no case were we to go beyond the orange concrete barrier—if we did, we would "screw up the entire exercise," contaminating an area that was supposed to be kept safe.

The longest minutes were those in which we looked out the window at Marines on the ground and waited for rescue. First to arrive were military policemen. One came into our car and asked whether we could walk. Those of us assigned to play ambulatory victims were directed to get off the train. I went out onto the pavement, lay down, and coughed and looked sick. I laughed too, because some of the Marines were really hamming it up.

Soon a fireman in protective gear came along and said something I couldn't understand—his voice was distorted by the mouthpiece in his mask. He repeated it, and I asked the passenger next to me, "What did he say?" The fireman was asking whether we could walk. When we answered yes, he told us to walk to a fire truck some distance away—beyond the orange concrete barrier. We complied, and soon another firefighter directed us even farther. Then came the puzzling part. We sat or lay on the ground and watched the rescuers set up isolation tents and a portable shower. We were in the area for uncontaminated victims, but no one had asked whether we had any chemical on us—only whether we could walk. The rescuers seemed to be concentrating on the victims who had to be carried out. Some Marines were wearing yellow rain gear—these people would be hosed off. In real life, the people needing decontamination would not be so easily identifiable.

Eventually someone came around and asked each of us what our symptoms were. The symptoms were listed on our orange "victim" badges. (I enjoyed wearing mine at work that afternoon.) My symptoms were worry, crying, chest pain, and nausea. None of these was serious, so I, along with most of the other passengers, was directed to a green tarp. People with more serious injuries were on a yellow tarp. Those with life-threatening injuries were evacuated quickly in real ambulances or imaginary helicopters.

Meanwhile, two busloads of Marines had been sent to Mary Washington Hospital and Potomac Hospital, which were part of the exercise, testing their ability to handle large numbers of casualties from a disaster.

As we waited on the tarp, a Navy doctor and then a Navy chaplain checked on us from time to time. Any of us whose condition deteriorated would have been moved to a higher-priority area. Finally, imaginary transportation arrived for us too, and we waited to be dismissed.

As a victim passenger, I found a few faults with the drill—mainly the fact that I was directed to a clean area before anyone verified that I was uncontaminated. Also, when we got off the train, we were upwind of the tank truck, but we were sent to a holding area that was downwind. Finally, some of the injuries were realistic-looking but unrealistic: some Marines, for example, had bloody shards of glass sticking out of them, but VRE trains have bulletproof plastic windows, which would not shatter in a grade-crossing collision.

If the disaster had been real, there would have been some problems with the rescue, but overall it was positive: the rescue workers obviously had a system, and they stuck to it. Having a plan will make the difference in a real emergency.
---
By Steve Dunham

This column appeared in the Fredericksburg, VA, Free Lance–Star Nov. 11, 2001, and is reprinted by permission.

When the exploding jetliner shook the Pentagon on Sept. 11, Dash, as the Alexandria Transit bus system is known, went on alert. As soon as news of the attack arrived, someone was on the phone to the City of Alexandria command center, asking how Dash could help. It was less than an hour before a call came for assistance.

Alexandria Transit sometimes gets calls for help during major emergencies, explained Sandy Modell, the general manager of Alexandria Transit. When firefighters spend hours battling a blaze, for example, a bus on the scene can serve as a portable rest shelter for rescue workers. At other times, as on Sept. 11, Dash provides emergency transportation. Alexandria firefighters—but not all their vehicles—were needed at the Pentagon. The city command center asked for three buses to transport the firefighters, who were assembling at one of the firehouses, to the Pentagon and to serve as emergency ambulances if necessary.

"Dash people immediately volunteered," said Modell. "I was very proud of our people." The volunteers would be needed, because the command center's request was only the first call for assistance that Dash received that day. After they delivered the firefighters, the buses sent to the Pentagon weren't needed as substitute ambulances, but there was a lot more emergency transportation required.

Amtrak and Virginia Railway Express trains leave Washington for Virginia via a tunnel under First Street on the east side of Capitol Hill, and the Secret Service closed the tunnel and sent agents through it to inspect it, stopping passenger train service till mid-afternoon. At the same time, the Washington Metro stopped operating its Yellow Line across the Potomac because it crosses the river on a bridge under the flight path of planes entering and leaving National Airport. The rail service disruptions left thousands of passengers stranded in Washington. Dash sent about six buses to Washington Union Station to bring people to King Street station in Alexandria.

Dash is a small system, with 49 buses and about 70 drivers, so it doesn't have a lot of surplus capacity. However, the attack occurred just as many buses were returning to the garage after the morning rush hour. The maintenance department took 15 to 18 buses, ran them through the service lane, gassed them up, and had them ready for service in one hour, said Modell.

Even more buses were needed. Although Metro was operating at King Street, Amtrak was not, and all but one of VRE's trains were in Washington, unable to leave. The conductor of one Amtrak train asked Dash to provide transportation to Richmond, and VRE, using its one train as a shuttle between Alexandria and Manassas, asked for buses to take its passengers to stations on the Fredericksburg line. Modell was reluctant to send buses as far away as Richmond—she would need them for the evening rush hour—so she called Greater Richmond Transit, which agreed to send a bus to Fredericksburg. Soon six Dash buses were shuttling between Alexandria and Fredericksburg, and when the Amtrak passengers arrived in Fredericksburg, they had to wait only minutes before the Richmond bus arrived to take them the rest of the way.

Although Dash turned in a creditable performance on Sept. 11, Alexandria Transit is looking at ways to do better the next time an emergency call for help comes. For example, "communication was a problem," noted Modell. Dash buses are equipped with radios, but with cell phones not working, there was some difficulty reaching off-duty employees, although employees who had the day off were calling headquarters or just showing up. Meanwhile, Dash is back to its ordinary business of carrying passengers seven days a week. VRE passengers ride free with a validated ticket. For information on Dash routes and services, visit the Dash website at www.dashbus.com or call (703) 370-3274.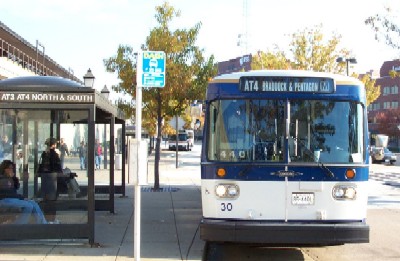 A Dash bus leaves Braddock Road Metro station for the Pentagon.
Photo by Steve Dunham, copyright 2001.
---
Attacks Teach Transport Lessons
By Steve Dunham

This column appeared in the Fredericksburg, VA, Free Lance–Star Oct. 14, 2001, and is reprinted by permission.

America's transportation system was not well prepared to adapt after the terrorist attacks on Sept. 11. When flaws in the airlines' security forced the system to a screeching halt, many travelers discovered that they had few other choices. For a long time, Amtrak has honored airline tickets to cities it serves. In the past, this has gotten many travelers home when snow, thunderstorms, or other troubles have grounded the airlines. In September, many travelers discovered that outside the Northeast, California, and a few other places, Amtrak service tends to be skimpy or nonexistent, and many of the trains that do run were already full.

Amtrak added cars to its trains where it could, ran a special train to bring Red Cross supplies to New York, and gave free transportation to rescue workers and victims' families. These actions helped, but Amtrak did not have the capacity to absorb any but a small fraction of the airline passengers.

When highway exits leading to the Pentagon were closed, jamming I-395 and eliminating a lot of that area's parking, Virginia Railway Express was able to carry everyone who wanted to ride, and provided seats for almost everybody. VRE, however, was already working hard to cope with a growing number of passengers, and quickly found its trains full and parking lots overflowing.

The intercity bus system, the poor cousin in the transportation network, could not offer a lot of help either. Although it serves more destinations than Amtrak, the extra capacity it offered was small compared to the need.

How did we create a national transportation system that is so inflexible? We planned it that way, or, to be more precise, we made a lot of politically expedient decisions.

We decided long ago that aviation needs federal support. The Federal Aviation Administration was allocated $13.3 billion in the fiscal year 2002 federal budget. We gave the airlines another $15 billion because they're in trouble after the terrorist attacks.

We decided to build an Interstate Highway System and fund it with taxes indefinitely. The Federal Highway Administration gets $32.5 billion this year.

We decided that, despite more than $60 billion in aid to their competitors, passenger trains should be able to make a profit. This unrealistic assumption results in $0.6 billion for Amtrak operations. Furthermore, Congress has told Amtrak to break even by 2003.

Federal transit aid for systems such as VRE and the Washington Metro comes through the Federal Transit Administration, with a 2002 budget of $6.7 billion. The poor Coast Guard gets only $5 billion. Intercity buses get to use the highways and then mostly are on their own.

How long would the airlines or the Interstate Highways last if they were given half a billion each and told to break even by 2003? I don't think they would last into 2002.

Billions are hard to comprehend. Let's reduce it to single dollars. If these children of the federal government were getting an allowance to invest, highways would get $32.50, aviation would get $28.30, mass transit would get $6.70, and Amtrak would get 62 cents. Actually, these numbers, maybe multiplied a few times, are pretty close to how much you personally are paying in federal taxes to support transportation.

One transportation lesson we learned in September is that if we subsidize one or two transportation choices far more than everything else, we won't have solid alternatives to fall back on.

Another lesson is what we can buy with $74.5 billion (the total U.S. Transportation Department budget, counting the extra $15 billion for the airlines). We learned that $13.3 billion isn't enough to make air travel safe. We learned that $32.5 billion won't keep traffic flowing in the nation's capital in an emergency. We learned that half a billion will buy us a good rail passenger system in the Northeast, pretty good service in a few other places, and very little elsewhere, with almost no surplus capacity for emergencies. In fact, considering that the federal government spends 60 times more on highways than on Amtrak, it's surprising that Amtrak has survived as well as it has.

Doubling or tripling the size of our national rail passenger system (which now looks like a very good idea) would still cost a small fraction of what we've been spending on highways and aviation, and would cost each of us only a few dollars a year.

It's time to start funding transportation according to what the country needs, not according to the belief that airlines and highways deserve eternal federal largesse and that the nation's passenger trains are a business that should be profitable on their own.

If voters make their voices heard, foolish transportation spending will no longer be politically expedient.

The 2002 Transportation Department budget is available online at http://ostpxweb.dot.gov/budget/FY02BiB1.pdf.